here are the top seven (why seven? why not?) things, products, people, events, etc. that i am a big fan of right now..(in no particular order)


1. Gatorade Cool Blue-i have at least two bottles of a day..on game days about 5 or 6. no other sports drink can compare..powerade tastes like water now..
2. Praise Habit by David Crowder-i read this book like a year ago and didn't really get anything out of it because i was reading it for the sake of haing read it..but now, i am reading it and it really is an amazing book.
3. JJ Redick-you just have to love JJ Redick..unless of course you are a fan of the team playing Duke..or one of the guys whose long time records he has broken this year..
4. World Cup 2006: Germany-its getting closer to world cup time again..and what better place for the world cup than Germany..? There are 91 days 20 hours 43 minutes and 32 seconds according to the countdown at fifaworldcup.yahoo.com..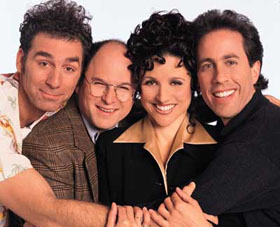 5. Seinfeld-I never thought I'd say this..but lately I really enjoy watching this show. I mean..how can you not like the show about nothing?
6. ECUADOR!-I leave for ecuador in 10 days..and I am really excited! I'm also nervous though..I can't speak spanish near as well as I should be able to after two years of spanish class and I'm don't really know the people who I am going with..but I know it'll all work out and we'll have a blast.
7. Dispatch (Gut the Van Live)-this CD is amazing. I have recently realized how awesome the whole cd is..at first i only listened to 3 songs but the entire CD is great..I listen to it every day..as a matter of fact, i listenened to the same one song from this CD the entire way to Wallace State a few weeks ago on the way to the MA basketball game..
thats it for now kids..
adios.